Suffice it to say, the 1940's were a hoppin time for Frank. Of course the fun started a few years before, back in 1938. In November of 1938, Frank was arrested for seduction and adultery. According to the FBI files, "On the second and ninth days of November 1938 at the Borough of Lodi" and "under the promise of marriage" Sinatra "did then and there have sexual intercourse with the said complainant, who was then and there a single female of good repute." The charges were later dropped when it was discovered that the said "complainant" was indeed a married woman.

That was just the start of the turmoil. It just took a little time to publicly announce itself. For on February 4, 1939, Frank married his High School Sweetheart, Nancy Barbato. She was an attractive girl who caught Frank's eyes early in childhood. She knew, however, that Frank had a tendency to stray, but she stood beside him. Perhaps not so much out of love, but more for their three children.

Frank and Nancy had three children - the first child being Nancy Sinatra born in June of 1940, Frank Sinatra Jr was born in January of 1944. After Frank's infidelity had reached an unbearable level for Nancy Sr, she had a third child aborted in 1946. However in 1948, their third and final child, Tina, was born.

One of the contributing factors in the stress between Frank and Nancy's marriage was a starlett by the name of Ava Gardner.

By 1942, Frank had just separated from Tommy Dorsey's organization and signed a record deal with Bluebird Records. Armed with songs previously sung with Harry James and Tommy, as well as some new arrangements of standards, Frank began performing and touring on his own. His first single, in fact, was another song that stuck with him throughout his career, albeit in different arrangements, "Night and Day." On one of his 1942 tour stops in Sunset Hills, at the Mocambo Club, Frank was performing in front of a rather elite crowd and didn't have anything near the star power that he would command not 10 to 15 years later. One of the members of his audience that specifically caught his eye was the wife of actor Mickey Rooney; Ava Gardner. According to stories recounted by Ava, Frank walked over to her after his performance, smiled and asked her "Hey, why didn't I meet you before Mickey? Then I could have married you myself." One thing to note also is that it wasn't her celebrity status or power status that attracted him to her - she wasn't a leading lady at that point in her career, merely a contract player at Metro-Goldwyn-Mayer. The two of them remained civil over the years but also kept it platonic. Neither had initiated any form of a serious relationship with each other.

That is until 1949. By that point, Ava had long since divorced Mickey and although she knew that Sinatra was married with three children, she couldn't resist and they officially began their affair. At this point in both of their careers, they were incredibly successful. After less than one year, Frank left Bluebird Records in 1943 and was signed to Columbia where he continued to release hit single after single, many of which became staples in his performances. Songs like "Begin The Beguine", "I've Got A Crush On You", "All Of Me", countless Christmas carols and one of the most beautiful ballads and most requested song of Franks, a love song about his wife; "Nancy (With The Laughing Face)" were all Columbia releases.

Also by 1945, Metro-Goldwyn-Mayer had realized what a theatrical draw Frank could be. Here he was, in his late twenties, a very attractive young man with a voice and an attitude that made women want him and men want to be him. Frank had been in a couple of movies in the early 1940's; namely "Higher and Higher" and "Step Lively" for RKO Pictures. Frank had secured starring roles in both films, and MGM knew that they wanted his audience and their money, so they teamed him up in 1945 with Gene Kelly for "Anchors Aweigh" - a film where Frank and Gene play Navy sailors on leave in Los Angeles. After the success of that picture, Frank starred in on average a picture a year for MGM until 1949.

1949 is when it all started to fall apart for Frank. Frank's affair with Ava had gone public and the public didn't like it. Until then, Frank's escapades had gone unnoticed by the press or the people; they had always assumed Frank was the good little boy, the family man. But once the public caught wind that he had gone off even though he had a devoted wife, his High School Sweetheart no less, and three children at home, he lost a lot of fans. The radio show that he had been hired to do weekly he got fired from, his concerts in New York had flopped and he and Nancy had separated and were in the process of getting a divorce. Columbia wanted to get rid of him from their label, and MGM had released him from their film contract. He had officially hit rock bottom. The only thing that he had was Ava and he jumped on it. Unfortunately, his career had taken such a nosedive that at one point, he had to borrow money from Ava just to buy his kids Christmas gifts. Ava's career, see, had taken off and she was indeed a Leading Lady of Hollywood and highly in demand. 1950 didn't prove much better - After a hiatus from singing on stage for two years, Frank returned to the stage on January 12, 1950 in Hartford, Connecticut but his voice had suffered after smoking, drinking, stress as well as not having sung as frequently for some time. When he was performing at the Copacabana just four months later, on April 26, he hemorrhaged his vocal cords on stage.

It appeared that his career, for all intents and purposes, was over.






Frank and his first wife, Nancy Barbato, in 1940.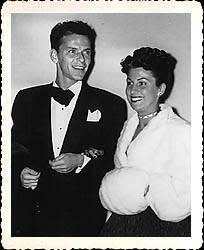 Another Frank and Nancy shot.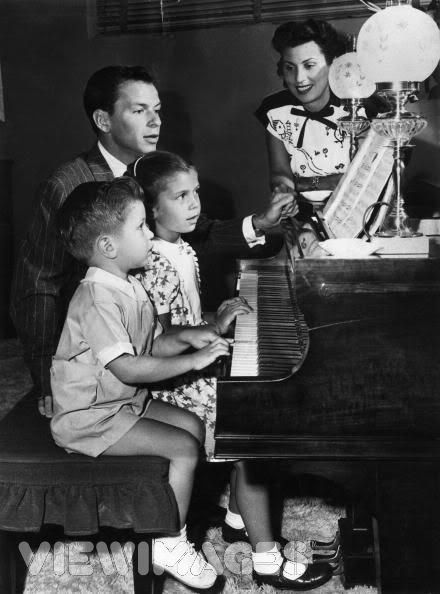 Frank and Nancy Sr. admiring the talent of their two oldest little ones - Nancy Jr and Frank Jr.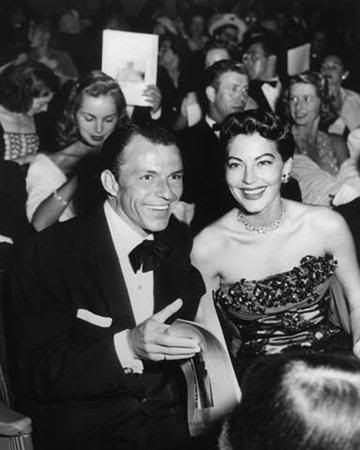 And the real fun begins - Frank and Ava Gardner.

In a few days, more than likely on his Birthday on the 12th, we're going to look at Frank's comeback as well as the new postage stamp that they're announcing and releasing on Wednesday. We're also going to get into Frank's induction into the ORIGINAL Rat Pack - and it may surprise you...

As always, I do hope that you're enjoying this trip down Memory Lane, and feel free to contribute in any way. Also, if you like this series, love this series or even hate it, feel free to let me know.