After Sinatra and company gained popularity with The Hoboken Four in 1935 on the Major Edward Bowes show, one fan especially took a liking to Francis - a gentleman by the name of Willie Moretti (who also used the alias of Willie Moore). Willie was associated with a man named Longy Zwillman in a mob front based out of New Jersey, Frank's home state.

Moretti had an interest in several casinos as well, mostly based out of the Jersey shore. Soon after Sinatra's appearances on Major Bowes, Moretti heard that he was looking to begin a solo career and helped Sinatra achieve his goals by hiring him as a headliner at some of his casinos, most notably the Riviera on the Jersey Palisades. With gambling being outlawed in several parts of the country, people still wanted to engage in games of chance so they traveled to the best places to gamble. By 1939, Las Vegas hadn't been developed beyond a few "sawdust" joints in the Downtown area of the city, with clubs such as the Boulder Club, Turf Club and a few other hole in the wall joints in the middle of the dessert. Obviously, since there was no real tourist draw and the fact that it was in the middle of the dessert, it wasn't a popular destination at that point, so New Jersey was the gaming hot spot of the country.

Sinatra's popularity grew and he also became a staple performer at the Rustic Cabin, a nightclub in Englewood Cliffs, NJ where a local radio station began to broadcast his performances. Still gaining in popularity, with his ability to make young girls swoon beginning, another opportunity presented itself; a "Name Band." A Name Band in those days was a band that was led by someone who the general public knew, such as Benny Goodman, Tommy Dorsey, Glenn Miller and the like. The band leader that hired Frank in 1939 was Harry James.

Harry James had enjoyed some success as an trumpet player in Benny Goodman's orchestra from 1937 to 1938 and in 1939 debuted his own big band. Shortly after he began touring his group, he came across and hired Frank Sinatra later in 1939 to a one year contract. One thing that Harry had wanted to do, however, was change Frank's stage name to Frankie Satin. Thankfully, Frank's trademark stubbornness had begun to take hold and he refused.

The biggest single that Frank had released up to that point in his career, both as a solo and working with a band, was "All Or Nothing At All" - one of Frank's trademark songs that stuck with him throughout all of his performing years, albeit under different arrangements as times and musical taste progressed. Harry James and Frank released that single in 1940, and it would be the last collaboration between the two musicians because at that time, Tommy Dorsey, a very successful trombone player and band leader was seeking to include Frank under his name and include him in the vocal group he called "The Pied Pipers." Frank met with Harry and Harry graciously agreed to let Frank out of his contract early to seek a more successful career.

Tommy Dorsey had come from a family of musicians - in fact he and his brother Jimmy had begun the Dorsey Brothers Orchestra in 1934. Jimmy was prominently featured on the Alto Saxophone and doubled on the clarinet, while Tommy was best known for his abilities as a trombonist. Tommy always said that his trombone abilities and playing technique closely resembled those of Jack Teagarden, a very popular and successful band leader and trombonist of the 1920's and 1930's who was mostly self taught and rather unorthodox in his approach to playing the instrument. By 1935, tension between the brothers had gotten to be extreme, so Tommy left the band and began his own orchestra in 1935. By 1940, he was very popular and decided he wanted to acquire Frank Sinatra as his singing sensation.

And he did.

Frank worked with Tommy through 1943, releasing a number of hits including "I'll Never Smile Again", "Stardust", "Without A Song" and many others throughout the very early 1940's. By that point, Frank's popularity had grown so much that "Bobbysoxers", or young girls, would flock to see him in droves, absolutely in love with the skinny tenor from Hoboken. He had also observed Tommy Dorsey's breathing techniques while playing the trombone for three years and had learned to mimic his breathing and phrasing while singing and had created a very unique sound that would follow him throughout his career. Frank had said in his later years that everything he learned about singing in a band, he learned from Tommy Dorsey and his work with that group.

Unfortunately, Frank was considered a gold mine, but he wasn't his own gold mine. He belonged to Tommy Dorsey. In fact, he had a very rough contract with Dorsey. In joining Dorsey's band, Frank had to pay Tommy 1/3 of his earnings for LIFE, as well as an additional 10% to Dorsey's agent. With those and a few smaller terms of the contract, 43% of Frank belonged to Tommy Dorsey and his agent forever. So in 1943, when Sinatra decided he wanted to go out on his own and make a real name for himself, his representatives approached Tommy with an offer - $60,000 to tear up the contract and let Frank on his own. Tommy wouldn't hear of it and they went through several harsh negotiations with no luck whatsoever. That's when an old friend came into play - Willie Moretti. While Frank denied this until the day he died, a lot of stories, including first hand accounts from Willie himself, tell that Willie went to see Tommy, shoved the barrel of a gun in Tommy's mouth and forced Tommy to release Frank from his contract for $1.

After that moment, Frank was all on his own. And he was going to do it His Way.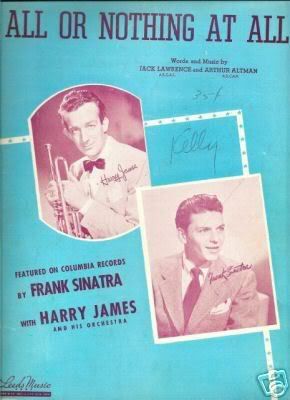 Sheet music from Sinatra's biggest hit with Harry James - a song that would follow him throughout his career.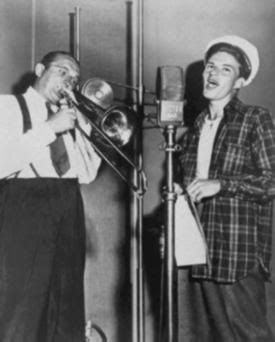 Frank and Tommy Dorsey - working?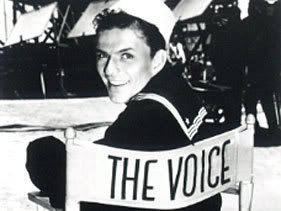 The name that would stay with him until he became The Chairman of the Board

Sorry it's so long folks... next time it will probably be just as long! But we're going to be taking a look at some of the fun stuff - namely his solo career beginning, dabbling in movies and then a lady by the name of Ava.....